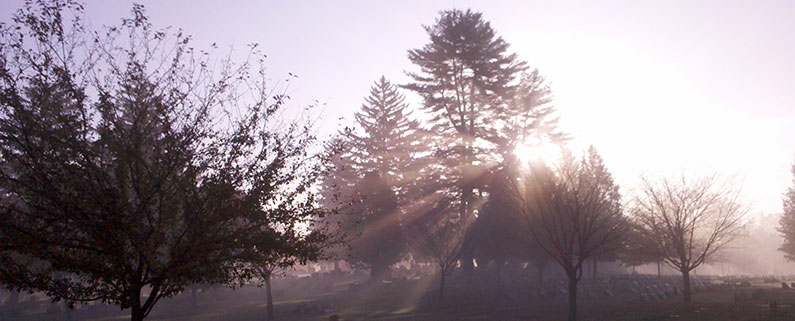 Q: How are cemeteries in New York State structured?
Over 1,900 cemeteries in New York are set up as not-for-profit organizations and report to the Division of Cemeteries. More than 4,000 other cemeteries are religious or municipal operations and are not regulated by the Division of Cemeteries.
Q: What is the New York State Cemetery Board and what do they do?
The Cemetery Board is made up of representatives from the office of the Secretary of State, the Attorney General and the Commissioner of Health. The Board's function is to oversee the operation of the NYS Division of Cemeteries and to administer NYS Cemetery Law. The Board also approves all rules, regulations and service fees charged by not-for-profit cemeteries in the state.
Q: Where can I find the rules and regulations of a cemetery?
All regulated cemeteries must have their rules and regulations available to the public in their office. The rules and regulations are also given when a person is given burial rights.
Q: Can a cemetery change their service fees whenever they want?
No. Before changing any fees, all regulated cemeteries must make application to notify the Cemetery Board. If the Board feels the request in unwarranted, they may deny the request.
Q: Are all service fees the same?
No. Different cemeteries may charge different amounts for similar services. NYSAC advises you to contact different cemeteries, as well as funeral homes when planning for a funeral.
Q: What is "pre-need" planning?
NYSAC is a strong proponent to planning ahead. You can buy burial rights and funeral services before there is a need. In many cases, you can also per-arrange to purchase burial vaults, head stones or markers, and things like urns well before they are needed. It gives you peace of mind, and takes a huge burden off your survivors during a most difficult time.
Q: What is the purpose of a burial vault?
A burial vault is a covered container that is placed in the ground and into which a casket is lowered. The vault protects the casket and also helps prevent the ground around the casket from caving in.
Q: Why do some people choose above ground burials?
Some people choose a mausoleum for their final burial spot. Mausoleums provide spaces above the ground. A crypt is a full burial space for a casket. A niche is a space for cremated remains and an urn. When choosing mausoleum space instead of ground burial, there is no need for a vault or headstone or marker, since the marble or granite front serves as a memorial for the deceased.
Q: What is cremation?
Cremation is the process of applying extreme heat to the body over a period of a few hours in which the body is reduced to bone fragments. It is an irreversible process. The bone fragments are then processed to a fine mixture and usually placed in an urn for proper burial.
Q: May I be scattered?
If you want to be scattered, you must first check for local requirements to see if scattering is even allowed. NYSAC strongly opposes the idea of scattering. If a person's remains are scattered, there is no permanent place for future generations to come and pay their respects to the deceased.
Q: What kinds of safeguards are in place to see that a cemetery is well-maintained even if there is no more property to sell?
The laws of New York require all regulated cemeteries to take 10% of every sale and $35 from each burial and place it in a managed Permanent Maintenance Fund. As a cemetery continues to sell property, this fund grows considerably. Once there is no more property to sell, the income from the Permanent Maintenance Fund is used to maintain the cemetery in perpetuity.